Advantages of Endesa offices
Get to know our offices and manage everything you need to in our spaces that are especially adapted to you.
Madrid offices
C/ Ortega y Gasset 26 (Núñez de Balboa corner). Madrid.
Barcelona offices
Av. Gran Vía de les Corts Catalanes 608. Barcelona.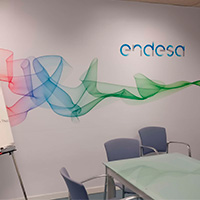 Sabadell offices
C/ Sallarès i Pla 6.
Sabadell.
Tarragona offices
C/ Mallorca 7.
Tarragona.
Sevilla offices
Avda. Luis Montoto 119.
Sevilla.
Málaga offices
Plaza de Babel 1 (Av. de las Américas corner). Malaga.
Granada offices
 C/ Camino de Ronda 22. Granada.
Las Palmas offices
C/ Olof Palme 45. Las Palmas de Gran Canaria.
Tenerife offices
C/ Fomento (Costa Sur building E portal, Store 1). Tenerife.
Zaragoza offices
C/ Cesáreo Alierta 22.
Zaragoza.
Palma offices
Av. Alemanya 13. Palma de Mallorca.